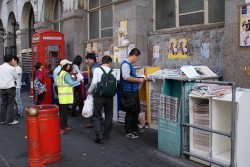 London-based travel and lifestyle magazine Monocle has published its annual ranking of what it describes as the top 25 liveable cities around the world. Coming out on top this year is Zurich, and no doubt happy to edge into the 25th spot of this top-flight group is its French Swiss cousin Geneva. If we regionally break down the group of cities they look like this: five in North America; twelve in Europe; five in East Asia (three in Japan); three in Australia and New Zealand; and no cities from Latin America, Africa, the Middle East, or South Asia.
Normally, I would not fuss too much about this sort of ranking. I don't pay much attention to the rankings themselves since such magazine conceptions of urban phenomena as 'liveability', and the world regions consequently included, are in any event tightly wound up in what a given publication envisions as the urban cultural capital attractive to its readership. As an object of academic attention, I also think that the social or political importance of magazine and other city rankings is sometimes a little exaggerated. This is not to say that such rankings do not matter; they certainly do, especially for the specialised and elite groups that get involved in more entrepreneurial versions of urban policy (captured well in this paper by urban geographer Eugene McCann). But over-obsessing with city rankings also seems to be a case of fixating on the starkest and most obvious media representations of cities, when there are far more distributed and nuanced ways in which urban life and cities are mediated to wider publics over time. More prosaically, I also don't fuss because after buying the Monocle city rankings edition last year, I just found myself annoyed with the superficiality of their ranking criteria, despite the fact that I merely sought some low-impact reading on an airplane.
Yet today I nevertheless find myself buying and reading Monocle's latest edition of its annual city rankings. What pulled me in was that this year Monocle features a special section on how 'media makes a city'. While my admittedly lowered expectations were met with their narrow and consumerist sense of what this might mean, I nevertheless found it mildly interesting for a low-impact pre-departmental-meeting read. In brief, the media that make a city for Monocle in this issue are record stores, news kiosks, book stores and book trucks – with the specific examples highlighting the unique and extraordinary. Also examined is the degree to which television dramas such as The Wire or The Killing can act as marketing tools, even when they portray a much edgier side of cities such as Baltimore or Copenhagen. But what is striking to me is that Monocle situates this special feature within their special issue presenting city rankings. Without any apparent irony that, for however small a range of publics, and for however narrow a range of criteria, they themselves are one of the ways media help make cities. It's the sort of thing I imagine some editor musing about in a preparatory editorial meeting for this issue. Whether in its back regions Monocle see this irony we may never know.