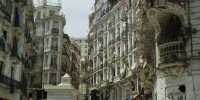 Next week sees the second edition of the biennial research workshop organised by Birkbeck Institute for the Moving Image (BIMI) and Film Studies at the University of Pittsburgh. It takes place between Wednesday 10 May to Friday 12 May 2017 – and extends into Saturday 13 May with a version of my well-wrought urban media tour, which takes a circuitous path from Fitzroy to Soho Square.
The workshop is free and open to all, and the organisers are particularly keen to welcome students and researchers in the areas encompassed by BIMI's mission: Film and Media, English, History of Art, Languages, Law, History, Philosophy, Politics, Geography, Psychosocial Studies, Applied Linguistics, and Psychological Sciences.
Below I have appended the basic programme, but if you'd like to see the full presentation abstracts, the contributor profiles, and details of screening materials – and also if you want to book your free place for the event – visit: https://www.eventbrite.co.uk/e/urban-change-current-research-in-film-television-and-media-studies-tickets-33888045055
If you can only make the urban media tour, you can just show up at the southwest corner of Fitzroy Square at 2pm (sharp!) on Saturday 13 May 2017 (map: http://bit.ly/2pZY0cA). We will end the tour around 3.30ish at Soho Square (a visit to a local pub afterwards is a possibility…).
PROGRAMME FOR BIMI-PITT RESEARCH WORKSHOP 10-12 MAY 2017: URBAN CHANGE – CURRENT RESEARCH IN FILM, TELEVISION AND MEDIA STUDIES

The second edition of the biennial research workshop organised by Birkbeck Institute for the Moving Image (BIMI) and Film Studies at the University of Pittsburgh will take place Wednesday 10 May to Friday 12 May 2017. The idea of the workshop is to bring together faculty and postgraduate students from Birkbeck and Pittsburgh to share their ongoing research, to get to know each other in person, and to develop collaborative research projects together. The first edition, "Cinema and the City", May 2015, was a productive and enjoyable occasion, which has already generated several joint research initiatives, including journal publications, student and staff exchanges, public lectures, curatorial projects, and study days.

The forthcoming edition, entitled "Urban Change", pursues the broad theme of cinema and the city, while addressing more precisely how moving image culture – in all its changing forms and formats, both aesthetically and technologically speaking – has responded and continues to react to the ongoing economic, social and political transformation of urban environments. These environments are understood as physical spaces but also as places to live, work, love and play, both individually and in terms of interpersonal and community relationships. While the cities of Pittsburgh and London remain significant topics for exploration, the geographical and historical coordinates of this workshop are entirely open, and participants will be exploring urban contexts and examples drawn from France, Algeria, Canada, India, Russia, Japan, Hong Kong, Denmark and Sweden.

The workshop is open to all, from Birkbeck and beyond, and we will be especially happy to welcome students and researchers working across the range of research areas and disciplines that BIMI is committed to representing as part of its mission: Film and Media, English, History of Art, Languages, Law, History, Philosophy, Politics, Geography, Psychosocial Studies, Applied Linguistics, and Psychological Sciences.

++++++++++++++

Below you will find the BASIC PROGRAMME of the workshop: if you wish to read the presentation abstracts, the contributor profiles, and details of screening materials, or BOOK a place for this FREE event, please follow this link: https://www.eventbrite.co.uk/e/urban-change-current-research-in-film-television-and-media-studies-tickets-33888045055

++++++++++++++
WEDNESDAY 10 MAY

10:30-11:30
WELCOME/INTRODUCTION with tea & coffee in Cinema foyer

11:30-12:30
Presentation #1
Randall HALLE, Pittsburgh: The Record of Modernity, the Poetics of Urban Change – Heinz Emigholz's Architecture and Autobiography

12:30-1:30 LUNCH BREAK

1:30-2:30
Presentation #2
Joel McKIM, Birkbeck: Transitional Vancouver: Stan Douglas's Circa 1948

2:30-3:30
Presentation #3
Curry CHANDLER, Pittsburgh: Visualizing Urban Change and Differential Space in Chris Ivey's East of Liberty series: Gentrification, Community Activism, and Documentary Film as Aesthetic Spatial Practice

3:30-4:00 TEA BREAK

4:00-5:00
Presentation #4
Melissa BUTCHER, Birkbeck: Creating Hackney as Home – Five Reflections on a London Borough

5:30-7:00
Early Film Exhibition Tour, with Ian Christie, Birkbeck: Early Cinema Sites in Leicester Square and the West End
Meeting point for the walk (tbc): Birkbeck, School of Arts, 43 Gordon Square.

++++++++++++++

THURSDAY 11 MAY

10:30-11:30
Presentation #5
Neepa MAJUMDAR, Pittsburgh: Wiring for the Talkies: Bombay's Cinema Theatres, 1927-1940

11:30-12:30
Presentation #6
Nikhil Thomas TITUS, Pittsburgh: Curated Desires: Examining Intersections of Low-Cost Film Exhibition, Migrant Audiences, and Gentrification in Mumbai

12:30-1:30 LUNCH BREAK

1:30-2:30
Presentation #7
Michael ALLEN, Birkbeck: What Goes Up Must Come Down – Negotiating Social Continuity and Change in the Representation of Post-War Architecture in British Film and Television.

2:30-3:30
Presentation #8
Adam HEBERT, Pittsburgh: Wheels and Reels on Both Sides of the Pond – Skateboarding and City Planning from Philadelphia to London

3:30-4:00 TEA BREAK

4:00-5:00
Presentation #9
Nancy CONDEE, Pittsburgh: Moral Repository – "The landscape of the Russian soul corresponds with the landscape of Russia"

++++++++++++++

FRIDAY 12 MAY

10:30-11:30
Presentation #10
Mark BEST, Pittsburgh: Giant Monsters, the City of the Future, and Spectacles of Urban (Non-)Destruction: Gamera visits Expo '70

11:30-12:30
Presentation #11
Kevin FLANAGAN, Pittsburgh: Hong Kong-D.C. Connection – Transnational Martial Arts Cinema between Regional Production Contexts and Global Audiences

12:30-1:30 LUNCH BREAK

1:30-2:30
Presentation #12
Kelsey CUMMINGS: Analysing Evocations of Urban Destruction in Romantic Comedy, with a Focus on Representations of Women's Bodies

2:30-3:30
Presentation #13
Janet McCABE, Birkbeck: Female Cartographies, Spatial Mappings, Regional Tourism – Location and The Bridge (Bron/Broen)

3:30-4:00 TEA BREAK

4:00-5:30
CLOSING DISCUSSION/FUTURE PLANS

6:00-9:00
BIMI & BIRMAC with ESSAY FILM FESTIVAL: screening of HOMO SAPIENS
Nikolaus Geyrhalter, Austria, 2016, 94 minutes, followed by a response to the film by Carl Lavery, University of Glasgow, in conversation with Anna Reading, Kings College London. More information: http://www.bbk.ac.uk/events-calendar/essay-film-festival-prelude-3-homo-sapiens

++++++++++++++

SATURDAY 13 MAY

2:00-3:30
Contemporary Urban Media Tour, with Scott RODGERS, Birkbeck: The Mediated City: A Tour of Media and Mediation from Fitzroy to Soho Square
Meeting point for the walk: Southwest corner of Fitzroy Square (map: http://bit.ly/2pZY0cA)