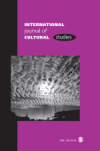 Publishing with a print journal seemingly gives me permission and (slender) rationale to announce a publication a second time: 'Re-locating media production', a special issue published in the International Journal of Cultural Studies that I have co-edited with Helen Morgan Parmett, is now available in print (in Volume 21, Issue 1), meaning the online version now has proper pagination. I list (again) all the abstracts below, and include links to the journal page at which each article is available (subscription required).
Re-locating media production
Helen Morgan Parmett and Scott Rodgers
It was arguably easier in the past to pin down media production in medium- or content-specific locales, such as the studio, the newsroom or the set. Contemporary processes of media convergence have dramatically opened up the 'what' and 'where' of media production to include all manner of quotidian practices and ephemeral places. This special issue, however, pushes back against the idea that contemporary landscapes of media production have been flattened. Each of the articles collected here accounts for significant transformations in media practices near to those that we would conventionally associate with media production, yet which are also potentially left behind in the rush to describe, theorize, celebrate and critique trends such as 'produsage', 'prosumption' and participatory media culture. Taken together, the articles in this special issue provide new insights into the locations and relocations of contemporary media production across new and under-researched liminal and peripheral geographies, and around new and unexpected objects.
From 'animation' to encounter: Community radio, sociability and urban life in Abidjan, Côte d'Ivoire
Fabien Cante
Drawing upon ethnographic research on community radio in Abidjan, Côte d'Ivoire, this article argues that tracking production practices outside of the studio allows researchers to better capture radio's entanglements with everyday urban life. This spatial reconsideration mirrors a conceptual move beyond community media labels and normative criteria, towards a privileging of context. To illustrate both points, the article centres around 'animation,' the practice of enlivening social situations. Animation is central to community radio in Abidjan, but 'animateurs' also practise their trade in a multitude of venues and events around the city. Following animation's movements between on- and off-air provides an understanding of how community radio is assembled as a porous 'micro-public', and insight into the particular kind of sociability that it produces. The article shows that while this sociability is tinged with the quest for status and social capital, it is mostly characterized by indeterminacy, and valued for the unforeseen encounters it can foster.
Emerging film cultures: Spotlight on post-disaster Haiti
Doris Posch
In the past decade, a new generation of filmmakers has committed to establishing a local film market via the film school, Ciné Institute, in Jacmèl, Haiti. Film production in Haiti today, grounded in a virtually non-existent cinema historiography, is particularly challenged by the neocolonial politics following the earthquake in Haiti in 2010 and Hurricane Matthew in 2016. Via lowest-budget productions, Haiti's filmmakers are not only contributing to new modes of translocal media production but are also attempting to create economically viable exhibition networks and subsequent distribution infrastructures on a transglobal scale. This analysis draws on the local prolificacy and global orientation of Haiti's emerging film cultures, and demonstrates that both aspects are influenced by and intervene in the broader contexts of geo-political debates in global cinema. Finally, this study considers the extent to which Haiti contributes to new configurations of film and media cultures in the Caribbean.
Site-specific television as urban renewal: Or, how Portland became Portlandia
Helen Morgan Parmett
This article addresses the rise of what I call 'site-specific television', where the dispersion of television production outside traditional centers results in shooting locations that also serve as the crux of the televisual narrative. I argue that site-specific television constitutes 'TV renewal', in which on-location shooting practices are constitutive of urban regeneration efforts that draw on local, alternative, and creative cultures of production to help promote, rebrand, and revitalize marginalized city spaces with, often, gentrifying implications. Taking up Portlandia as a case study of site-specific television, I argue its on-location production practices depend on decentralized and embedded practices of production that align with recent economic and cultural changes in the television industry and in the city.
Digital media reflexivities: The Axel Springer Campus in Berlin
Alexander Gutzmer
This article reads the notion of mediatization through a current example of architectural practice: the Axel Springer Campus in Berlin. Based on current theories of mediatization, it shows how this architectural project for a media firm finds new ways for architecture itself to function as a medium. It argues that architect Rem Koolhaas developed an architectural design that has the capacity to mediate images and interpretations of the productivity of media practitioners, of the relationship between media firm and urban environment, as well as of more general transformations of media work in the digital age.
Digitizing localism: Anticipating, assembling and animating a 'space' for UK hyperlocal media production
Scott Rodgers
This article presents an unconventional view of media production, not as the direct production of media content or forms, but the cultivation of spaces for media production taking place elsewhere. I draw on a close analysis of Destination Local, a program of UK charity Nesta, which focused on the implications of location-based technologies for the emergent field of 'hyperlocal' media. Although the first round of the program – the focus in this paper – funded 10 experimental projects alongside extensive research, my argument is that Destination Local was less a matter of enabling specific place-based hyperlocal media outlets. Rather, it was an attempt to anticipate, assemble and animate a broader UK hyperlocal media 'space', composed of both technical ecologies (e.g. data, devices, platforms, standards) and practical fields (e.g. journalism, software development, local government, community activism). This space, I argue, was anchored to a largely implicit political discourse of localism.
Expanded places: Redefining media and violence in the networked age
Donatella Della Ratta
This article focuses on the relationship between violence and visibility as redefined by the combined action of warfare and networked communications technologies. Drawing on an ethnography of Syrian popular culture conducted at the theme park the Damascene Village, it proposes the concept of 'expanded places' to reflect on sites that have been physically violated, while at the same time they have been granted a new online life as a result of the manipulation and redistribution of their images on Web 2.0. The article investigates the dynamic of expansion by relating it to key practices that define internet participatory cultures, such as remixing; and to the theoretical framework of remediation, proposing to repurpose the latter in a networked media context. It discusses expansion in relation to the performance of violence, and reflects on the implications of involving the participatory dimension of Web 2.0 in replicating the latter.