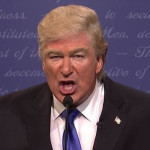 In just a few weeks I will be presenting a paper at what looks like a very interesting symposium here at Birkbeck considering the increasingly important relationships between politicians and performance. I have pasted the programme, as well as my own abstract, below. Many of the other contributors will be drawing centrally on practices and concepts coming out of theatre and performance studies. I'll probably be coming a little out of left field in this regard. But hopefully my discussion of Rob Ford's unusual mayoralty as a kind of embodied interference within the localized media universe of Toronto city politics which strike a chord and provoke some interesting discussion. Anyway, I'm paired with another paper looking (in part) at Justin Trudeau, so, should be fun!
If you'd like to register to attend, visit the symposium's Eventbrite page.
Politicians & Other Performers

Birkbeck Centre for Contemporary Theatre
G10 Studio, 43 Gordon Square, London WC1H OPD

Friday 20 January 2017

Schedule

9.15-9.30: Welcome (coffee provided)

9.30-10.15: Voice Works
Mending Speech: Glenda Jackson on and off script, Emma Bennett and Ella Finer
'Scotland's Siren: "The Most Dangerous Woman in Politics"?, Maggie Inchley

10.15-11.15: Theatrical Turns
Turn! Turn! Turn!, Rachel Cockburn
Just Theatre? Rethinking the Significance of Politicians' Performances in Representative Democracy, Julia Peetz
Maryam Rajavi: Propaganda Queen and/or President in Waiting?, Alinah Azadeh

11.15-12.00: Emoting Masculinities
'The swaggerers were in the ascendency': performative masculinity as political strategy in post-conflict Northern Ireland, Alexander Coupe
Boys Don't Cry, Mark Blacklock

12.00-1.00: Lunch (not provided)

1.00-1.45: Conflicting Canadians
Anatomy of a 'babyface': the body performances of Justin Trudeau and Sami Zayn, Broderick V. Chow
'Toronto's crack-smoking mayor': The performative disruptions of Rob Ford, Scott Rodgers

1.45 – 2.30: Trickle Down Trump
Jonathan Lethem, Amnesia Moon and Donald Trump, Joe Brooker
Facing Reality: Mike Daisey's The Trump Card, Louise Owen

2.45-4.45: Screening, Frost/Nixon (Birkbeck Cinema)

'Toronto's crack-smoking mayor': The performative disruptions of Rob Ford
Scott Rodgers

In 2013, Toronto Mayor Rob Ford ascended to international notoriety, after video footage of him smoking crack cocaine was shown to celebrity website Gawker and the Toronto Star. From then onward, global news media presented a remarkable spectacle: stereotypically polite and boring Canada having an abrasive, clumsy 'crack-smoking mayor' who was frequently drunk in public and stubbornly against resigning. Like many big city mayors, Rob Ford had emerged as the personification of his city, though for all the wrong reasons. In this paper, I focus less on the international stage of Rob Ford's performative disruptions, but instead the interference he embodied for the more localized media universe of Toronto city politics. This was a universe Ford sought to bypass. Along with his brother, he preferred to address his base via a long running talk radio show. He preferred, too, to get out of City Hall. He was renown for his visits to Toronto's low-income housing estates, where he was seen to be at ease: posing for photos, talking sport, calling people 'brother' and so on. Above all, however, I suggest that the Ford saga was generated through the seemingly unrelenting stream of shocking events, transgressive behaviour and everyday imaging mediated via mobile social media and related practices of witnessing.