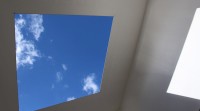 On Wednesday 7 June 2017, Birkbeck Interdisciplinary Research in Media and Culture and the Vasari Research Centre for Art and Technology will be co-hosting a talk from Professor Louise Amoore on the subject of 'Cloud Futures'. The event – details of which are pasted below – is free and open to all, but booking via Eventbrite is essential. Look forward to seeing some of you there!
Cloud Futures, a talk by Prof. Louise Amoore

This event is co-sponsored by the School of Arts, BIRMAC and the Vasari Research Centre for Art and Technology

Wednesday 7 June 2017 | 18:00-19:30, followed by a drinks reception held in the Keynes Library until 20: 30

BO3, 43 Gordon Square WC1H OPD | Map

The algorithmic architecture of cloud computing is becoming ever more closely intertwined with sovereign authority – from the sharing of intelligence data, to border controls, immigration decisions, and drone strikes.

Developing an analogy with the aesthetics of the cloud chamber of early twentieth century particle physics, the talk by Prof. Louise Amoore will explore the geopolitical capacities of the cloud in cloud computing. How does the cloud render perceptible that which could never be visible on a register of human vision? Like the cloud chambers of twentieth century particle physics, contemporary cloud computing is concerned with rendering perceptible and actionable that which would otherwise be beyond the threshold of knowable futures. Through the computational logics of machine learning and back propagation, the global present becomes governed by cloud reasoning on three distinct registers: condensing traces; discovering patterns; and archiving the future.

Agenda :

18:00 – 18:45 : Prof. Louise Amoore (Durham University), with a talk entitled, 'Cloud Futures'
18:45 – 19: 00 : Response from Dr. Joel McKim, Director of the Vasari Research Centre for Art and Technology (Birkbeck, University of London)

19: 00 – 19: 30 : Q&A with the audience

19.30 – 20.30 : Drinks reception in the Keynes Library, 43 Gordon Square

This event is free, but reservation is required | Click here

Biography for Prof. Amoore:

Louise Amoore is Professor of Political Geography at Durham University. Currently, she holds a Leverhulme Major Research Fellowship for a project on 'Ethics of Algorithms', in which she is interested in how the relative opacity and unreadability of the algorithm could form the starting point, and not the limit, of an ethical sensibility. The fellowship is affording Louise the time to write a new book for Duke University Press, Cloud Ethics, where she addresses the themes of cloud atlases, learning machines, authorship, madness, and doubt.
In her previous work, Louise has looked at post 9/11 transformations in probabilities, where technologies amplify the possibilities in high impact, low probability events. This work, published in her 2013 book, The Politics of Possibility: Risk and Security Beyond Probability (DUP), reflects her interest in histories of computation and data mining, techniques of risk management, and the aesthetics and politics of securing against uncertain future possibilities.