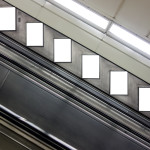 Just a quick note to say that the roundtable on 'The Urban as Emergent Key Concept for Media Theory' in Mediapolis: A Journal of Cities and Culture has reached it's conclusion. Now available are opening essays and responses from Zlatan Krajina, André Jansson, Myria Georgiou, Giorgia Aiello and me.
Here's an excerpt from my concluding response:
The interesting and insightful contributions made to this roundtable seem to have arrived at a consensus. One which, on first blush, may seem rather counterintuitive. We all seem to agree, if through differently-tinted lenses, that the intersection of media and the urban should be approached by displacing both of these key concepts. Now, some might reasonably expect that, if you are going to have a roundtable on the urban as a key concept for media theory, then its participants should surely be spending much of their time trying to pin things down. Some might have anticipated, for instance, that we would be laying out definitional parameters for "the urban," not to mention for "media" and then in turn, for conjunctive assemblages like "media city". We have not, and for important reasons.
Read my full concluding response; see also the main roundtable page for links to all of the contributions.